Thanks to its amazing pristine beauty, Thung Nham ecotourism zone has attracted numerous tourists. The harmony between the natural landscapes and the creativity of the locals makes Thung Nham become an appealing attraction in Ninh Binh.

Far about 12km from Ninh Binh city to the west, Thung Nham ecotourism zone is located in Ninh Hai commune, Hoa Lu district, Ninh Binh province. It is one of the tourist attractions in Ninh Binh fully converging factors of culture, spirituality, landscapes and biodiversity. This is one of the new tourist sites in Ninh Binh city gradually attracting the attention of numerous domestic and foreign tourists. Located in the core of Trang An Scenic Landscape Complex and far about 5km from Tam Coc – Bich Dong tourist zone, Thung Nham ecotourism zone has the advantages of geographical location and easily combines with other scenic sights in Hoa Lu Ancient Capital. It thus becomes one of the most impressive attractions in Ninh Binh tourism.
VAI GIOI CAVE
Located on a high mountain, the cave is about 5000 m2 with 3 floors contains many fanciful and sparkling stalactites is such as earth, Hell and Heaven. Legend has it that ancient people who have established the altar of God for the good weather, good harvest.
CAVE BUDDHA
Cave Buddha is a natural cave 500m to 70m at its widest point, the ceiling height is about 30m, it has fanciful and sparkling stalactites. Especially in the cave with the Buddha existing as he sat next to underground river to gift good luck for the visitors.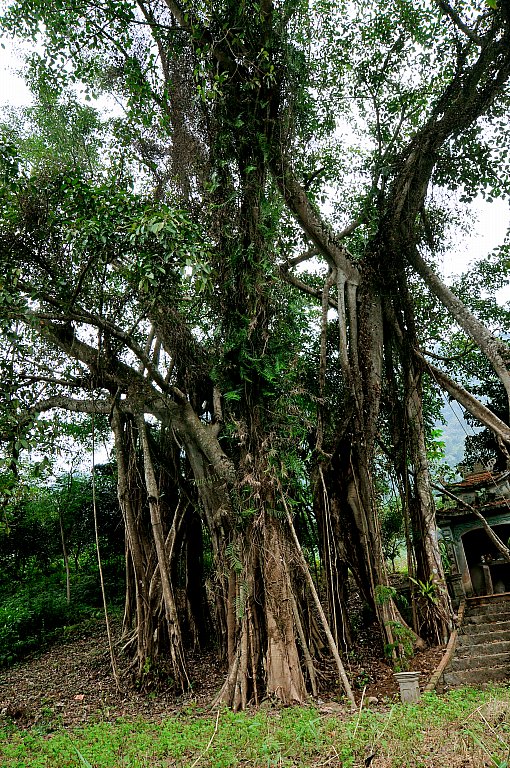 THE MOVING BANYAN TREE
Standing among Thung Nham mountains during thousands of years. The tree has moved three times around the ancient temple and have been evaluated that every move lasted more than 300 years by scientist, professionals.
ORCHARDS
With a total area of 80000 m2 planted fruit trees of diverse tropical country such as Apples, guava, mango, persimmon, litchi,.. Guest will be here to set free soul to nature, enjoy the delicious fruits and feel like they are lost in " Hoa Qua Son" ( Fruit mountain).
THE THOUSAND YEARS OLD TREE
The tree carrying value of its long history associated with a story of King Dinh Tien Hoang. More particularly, it fully grows on a large rock and has been evaluated the tree with the most unique shape in Vietnam.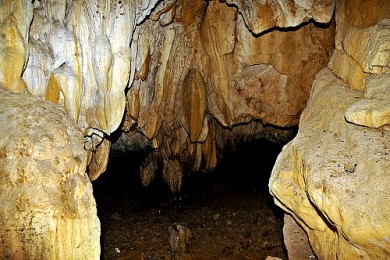 THE THREE GIRLS' CAVE
Legend has it that the ancient King Dinh Tien Hoang poisoned. Doctors are wholeheartedly cure but can not find any remedy to cure. Immediately inform all their hundreds of people, who find antidote to save King will be rewarded.
At this point in the citadel of Hoa Lu has 3 sisters in a dream saw a cave with precious water at Thung Nham can save king. As soon as waking up, three girls came in the cave to get water to save the king, but unfortunately, three girls were arrested by tigers. To remember 3 girls, people here have covered a tomb and named " The three girls'cave" to gain spiritual merit.
MERMAID CAVE
The cave is more than 1500m long with ravishing- diversified stalactites system. Over millions of years of natural creation here is a story circulated about a mermaid petrified. Stalactites inside as the fine art paintings of nature.
UNDERWATER PALACE CAVE
With a length of 700m beside the fanciful and sparkling stalactites system is like a palatial splendid underwater palace.
BIRD GARDEN

Is the residence of diversity types of birds: storks, herons, warblers, starlings,… especially two rare birds in the park have been recorded in the Red Book are flamingoes and Phoenix. One of the four mascots: dragon, unicorn, turtle, Phoenix.
LOVE VALLEY
As Valley with dreaming space created by the harmonious combination between flowers and trees, colorful orchids, along with many bird noise made romantic love songs.